In this beautiful month of May, we are delighted to shine a spotlight on a member of the NYTW Staff who has rejoined us this spring after an amazing run on Broadway! So without further ado, reintroducing to some and presenting to others, our phenomenal Marketing and Audience Services Manager, Brennie Tellu!
We sat down with Brennie to talk about her career, inside and outside of NYTW.
What inspires you?
I am deeply inspired by empathy…people caring about other people and intentionally taking them into consideration. What I love most about theatre is how artists can be vessels for people to empathize with stories and worlds so different from their own if they allow themselves to be open to it.
What is your first memory of going to the theatre or how did you fall in love with theatre?
I think I became theatre before I was even aware of it. And what I mean is…when I was 10 or 11, my mom got rid of our televisions. Books became our primary form of entertainment and this only fed my imagination; I would read stories and then act them out for my sisters, playing every single character. That is when my love of performance and theatre began.
How do you balance being a working artist and working in theatre administration? How do both your lives inform each other?
Being at the Workshop in an environment where my artistry is supported is truly a blessing. So many of us that work here in administration, also balance our artistry and that is so much easier to do when you feel encouraged and supported at work. I tend to do more film, voiceover, and developmental work based on my schedule, but I have been fortunate to step away and do theatre as well.  I am passionate about the arts in general and it is fulfilling to me to be a part of making change and contributions on the administrative side that ultimately benefit the artist side of me as well.
What do you want our community to know about the theatergoer experience?
I really believe that the experience begins long before the theatre goes dark and the show begins. It happens with each step along the way, When you book your ticket – how user-friendly is that experience? When you receive the pre-show email – have we covered everything that you will need to prepare for your performance?  Then when you enter the building – how you are greeted, made to feel welcome, and taken care of? All of this happens so that when you enter the theatre, you can be fully present to take the journey the artists have created for you.
If you have one, what is your most memorable NYTW production or experience?
My most memorable experience was actually my first day at the Workshop. It happened to be the reading for Sanctuary City. That play rocked my world; the story, the acting, the way Martyna used time lapses to carve out the world? I was blown away – first of all to be fortunate enough that my work day included beautiful artistry and then to have a truly spiritual experience. I sat in that room and bawled my eyes out and I remember thinking, well here's a first, you are crying on your first day of work. I knew right away I was in the right place.
Your time at Ain't No Mo' on Broadway
(Pictured above: Lee Daniels and the cast members of Broadway's 'Ain't No Mo.' Image: courtesy of Keith Major)
What was your role/experience with the show?
I was an Understudy covering Passenger 4, played by Ebony Marshall Oliver, and Passenger 5, played by Crystal Lucas Perry. It was an absolutely amazing process as Stevie had us involved from the very first rehearsal and that room was such a safe, beautiful, and collaborative space. Though I didn't get to go up as we closed early, I had many opportunities to rehearse and run through the full play in both of my tracks on the Belasco stage and that was exhilarating. I was also very fortunate, thanks to some generous and giving souls, to create access in our last week for nearly 150 people to see the show with donated tickets.
In your own words, what made this production's run so special, both on and off Broadway?
I was not able to see the Off-Broadway production, but I think what made the Broadway run of Ain't No Mo' so special was the experience of the community coming together. The preshow had the vibe of a family reunion or holiday gathering and because the show starts with an unconventional funeral, it was a church of sorts and there was a visceral connection with everyone in that room. The freedom of call and response that Jordan created made a huge Broadway theatre feel intimate and for that 90 minutes, we collectively laughed, held our breath, cried, and took that ride.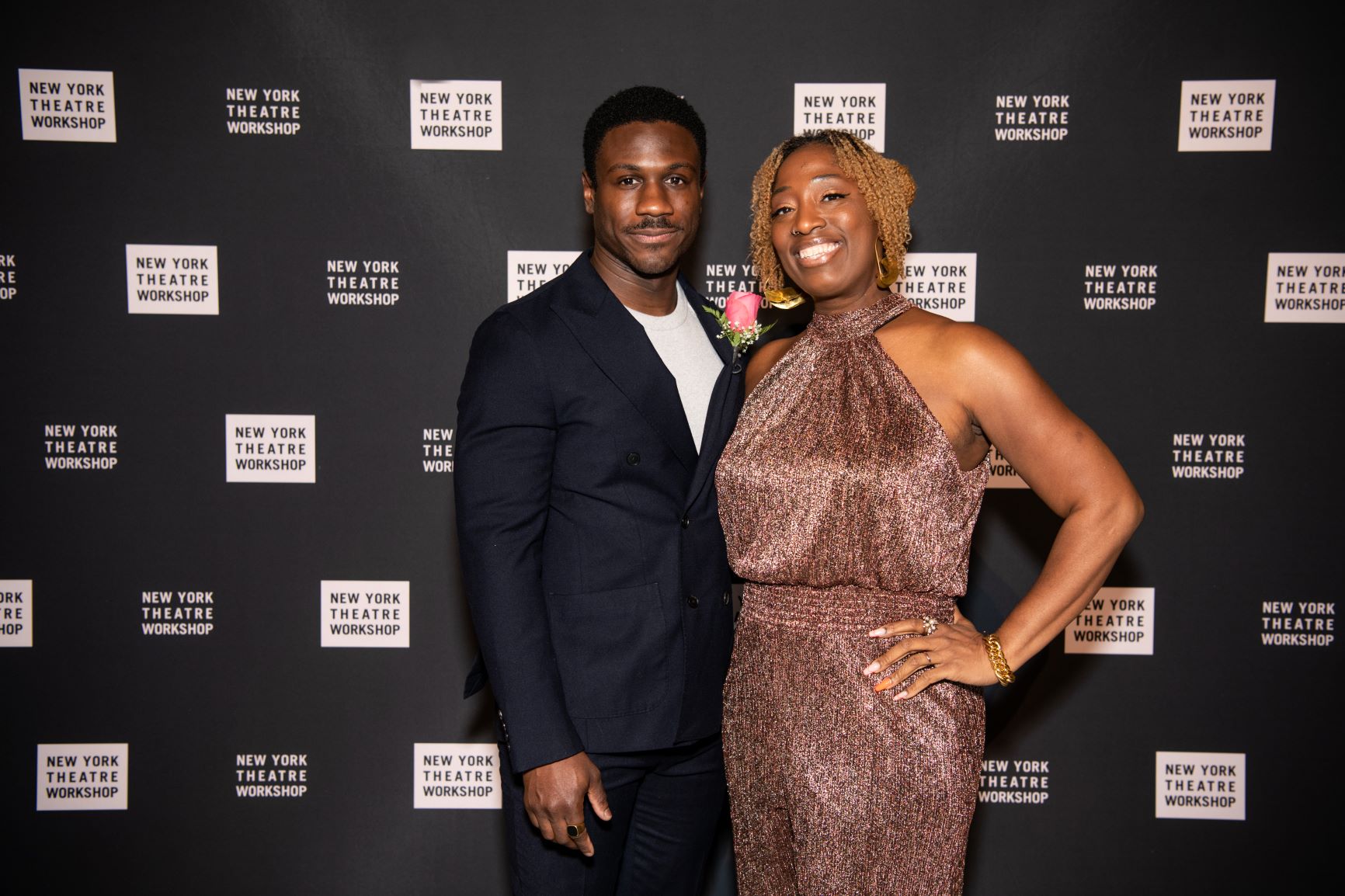 (Pictured above: Marchánt Davis and Brennie Tellu at the 2023 NYTW Gala. Image credit: Natalie Anne Powers)
In your role as Marketing and Audience Services Manager with NYTW, you have an inside view into the audience experience. Do you have any highlights you'd like to share about the ANM audience experience?
I watched the show repeatedly; probably 4-6 times per week, and it felt like a new experience every time as I think the audience felt so at home that they were open and present to get lost in the world Jordan created. There was a joy and communal spirit in the room and I think that only happens when people feel welcome.
What are your visions for the future of (Marketing and audience services) and how do you see yourself guiding those visions forward?
I want audience members to feel welcome when they are in community with us and to feel taken care of when any issues arise. I am also passionate about creating opportunities for them to deeply engage with the artists and the work, and overall to live our values in a tangible way.
Explore more
Categories: NYTW Spotlight. Tags: NYTW Staff.