FOR THE CULTURE
New York Theatre Workshop's Core Values are to inspire deeper understanding, welcome learning and growth, to celebrate community, and to live its values.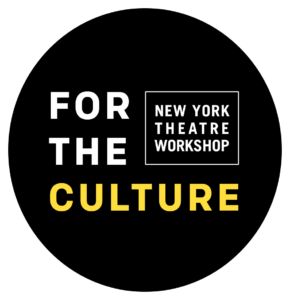 Through our For The Culture Series (FTC), NYTW seeks to bridge the gap between the world we know and the world we are actively striving to build – where we harness the power of theatre to deepen human connections by learning and growing from the lived experiences of each other; connect through art, shared customs, traditions and heritage(s); and where we amplify artists and work by traditionally underrepresented groups or individuals, creating access to the Workshop for historically marginalized communities in order to build and sustain authentic relationships with our fellow community members and theatergoers.
LEARN MORE
What is FTC?
An ongoing affinity night engagement series centered around the themes and communities reflected in each NYTW show.
What is the purpose and desired outcome of FTC?
FTC will act as an umbrella for NYTW's Innovators Program (e.g. theatre influencers, social influencers, NYTW highly engaged community members, fans of a particular show or artist, young urban professionals, etc.) while also supporting the Workshop's strategic outreach efforts to engage diverse audiences who are most often underrepresented in the Off-Broadway theatre space
What are potential benefits and opportunities to engage with participants of FTC?
Access to exclusive to discount codes to share with your network

Access to post show discussions, special events, and activities

Access to exclusive content and giveaways

Post-show surveys to share feedback on their experiences
How can I get involved in FTC?
It's simple! You can come to any of the nights listed below as part of the series to get a feel for what FTC is. If you are interested in becoming a partner for a future FTC event, reach out to Gaven Trinidad at gavent@nytw.org.
UPCOMING EVENTS
LGBTQIA+ NIGHT – TUESDAY, OCT 4 @ 7PM
In partnership with The LGBT Center, PENAmerica, and Breaking the Binary Theatre Festival, this special affinity night for NYTW's production of american (tele)visions is a celebration of queerness on stage and strides LGBTQ+ artists have done to tell their own stories on their own terms. Join playwright Victor I. Cazares and artists and representatives from the aforementioned organizations in a post-show conversation about the intersections of queerness, immigration, race, and theatre-making.
OPEN SALON (with Poetic Theater Productions, Latinx Playwrights Circle & FABnyc) – THURSDAY, OCT 6 @ 5:30PM
Poetic Theater Productions, FABnyc, Latinx Playwrights Circle and NYTW are returning with their popular outdoor Open Salon event on Thursday, October 6th, to celebrate NYTW's world premiere production of american (tele)visions by NYTW Tow Playwright-in-Residence Victor I. Cazares. We are seeking original work of all disciplines and languages in conversation with Victor's play. More information to come soon about how to sign up to perform.