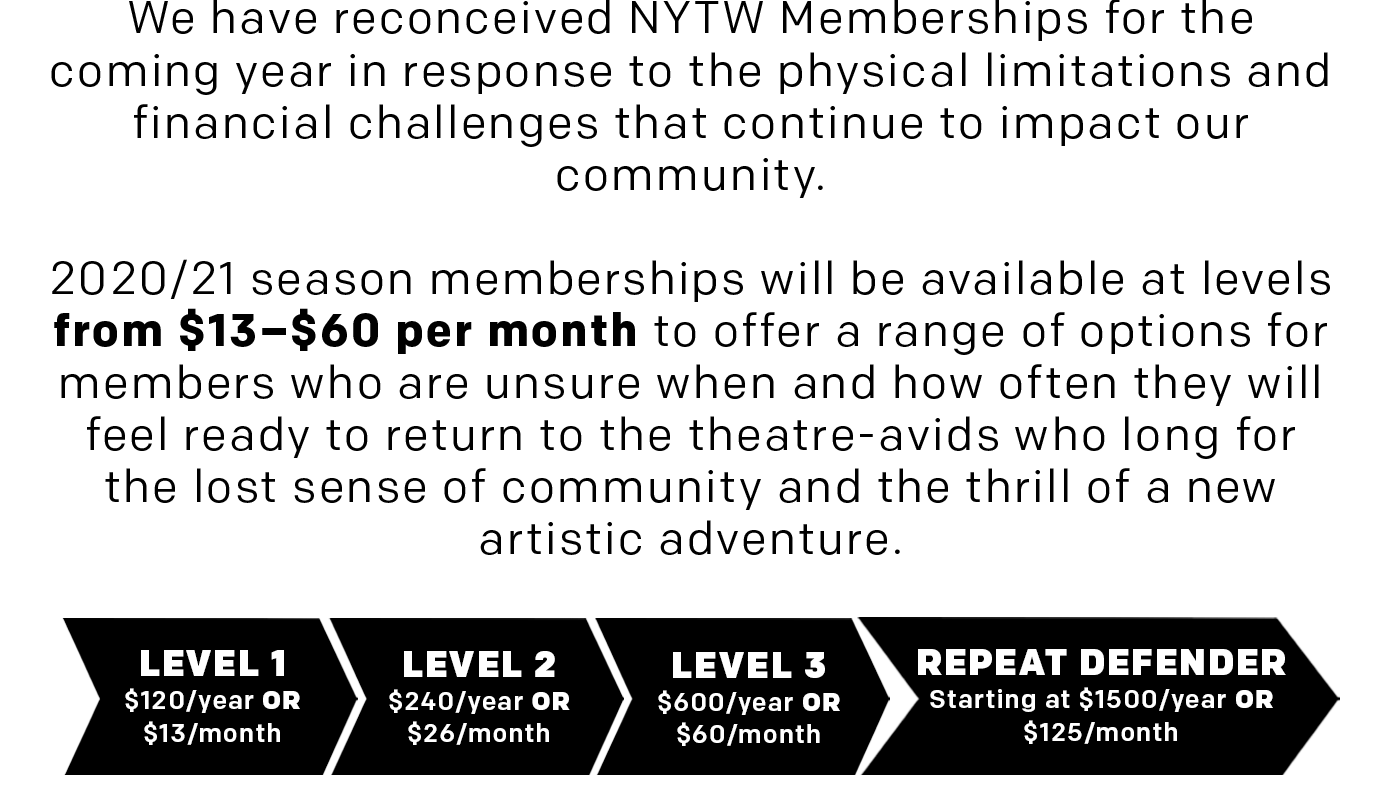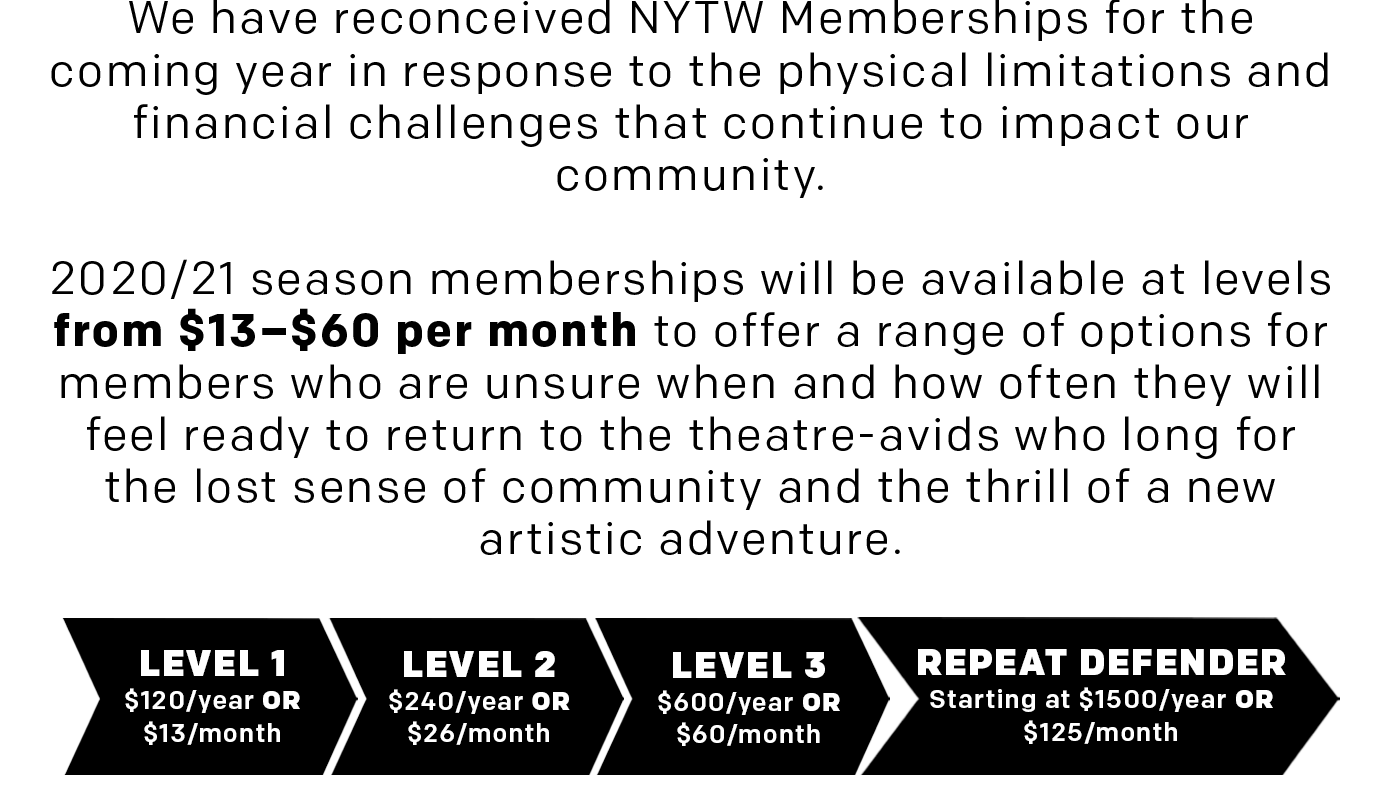 HOW DOES THIS WORK? CLICK FOR FAQS
Level 1
$120/year or $13/month
Pick and choose the events you'd like to attend as the season progresses
Purchase up to one ticket at a discounted rate for all virtual and in-person events
REAL-TALK: Unsure when and how often you'll feel ready to return, but still want to experience some of the season while supporting artists in creating new work? This is the package for you!
Level 2
$240/year or $26/month
Don't miss a minute of the action!
Get one admission, free of charge, for all virtual and in-person events
REAL-TALK: This is your all-access pass to experience the entire season. There's so much that's out of your control right now, but a season membership gives you something to look forward to—a front-row seat for our greatest artistic experiment yet!
Level 3
$600/year or $60/month
Double or nothing!
Get two admissions, free of charge, for all virtual and in-person events
Your membership includes a $120 tax-deductible contribution which further supports the Artistic Instigators this season
As a special thank you, we'll send you invitations to a few VIP events over the course of the season to give you extra insights into how the work is being made
REAL-TALK: This is an all-access pass for two people for the entire season. Whether you're sheltering together or separately, you'll book your virtual or in-person event tickets via a single account, so there's only one password to remember!
REPEAT DEFENDER
$1500/year or $125/month
Join the loyal group of donors who make New York Theatre Workshop's mission possible
In exchange for your unwavering support, you'll receive the highest level of access and concierge service for all NYTW events
Whether you pay monthly or upfront, we hope you'll join us for the entire season to support the Artistic Instigators as they explore art-making within these new circumstances. While the timeline for resuming in-person performances in New York City remains uncertain, we believe great work is still possible!
Some events will be exclusively virtual experiences while others may take place in person—when it is possible to do so with appropriate safety measures. Along the way, we'll invite you to experience the evolution of this work through work-in-process sharings and behind-the-scenes conversations with the artists.
Each customer is limited to one membership package. If you normally arrange for a group, you'll each want your own membership so you can access virtual programming while you shelter separately. Think of it like a yoga class—you attend together, but you sign in separately.
We still intend to return to the two 2019/20 productions we were unable to open due to the pandemic! As soon as it is feasible and safe to do so, we remain committed to bringing you Martyna Majok's Sanctuary City directed by Rebecca Frecknall and Clare Barron's adaptation of Three Sisters directed by Sam Gold. Your admission for every event this season is included with your membership—one discounted ticket with Level 1, one free ticket with Level 2, and two free tickets with Level 3.