May is Lower East Side History Month, and Fourth Arts Block NYC (FABnyc) is activating its network of community-oriented arts institutions to celebrate the neighborhood and its rich history. FABnyc's Managing Director Dakota Scott generously shared some history about FABnyc and the work they continue to do in our neighborhood.
We hope you'll take a moment to get to know our friends at Fourth Arts Block NYC!
When and why was FAB formed? 
DAKOTA: FABnyc was founded in 2001 (it's our 20th year!) by a coalition of a dozen cultural and community nonprofits on East 4th Street to save their homes. In partnership with local community organizers and elected officials, FABnyc founders advocated for and secured the transfer of six buildings and two vacant lots to resident arts organizations for $1 each. The East 4th Street Cultural District was established, and each property is now deed-restricted for nonprofit cultural use in perpetuity.  
What is important that folks know about the LES and particularly 4th Street as a Cultural District? 
DAKOTA: It's dense! The Lower East Side as a whole has over 165,000 residents making it equivalent to a small city. It is one of the most racially diverse districts in NYC, has the 2nd most extreme income disparity in NYC, and nearly one fifth of residents are seniors. On 4th Street (btwn 2nd Ave and Bowery) there are 14 arts groups, 10 cultural facilities, and 22 performance and rehearsal venues. It has been identified as having more active cultural space per square foot than any other block in New York City
Can you tell us a bit about the history of LES History Month and how this program has evolved?  
DAKOTA: We launched LES History Month eight years ago with Downtown Art and 80+ participating organizations and small businesses in the hope that a collective celebration of our neighborhood would strengthen our connection to each other and strengthen our sense of community. 
It is an annual celebration of the multiple cultures, histories, and peoples that make up our community, with a particular focus on cultural histories endangered by displacement. That work has expanded into The People's LES initiative; a website with articles, oral histories & historic resources, and a growing audio archive of stories and memories from LES seniors, the LES Community Hero Awards through which neighbors recognize the contributions of their peers, and a series of public humanities programs. 
It is in May every year and includes walking tours, performances, festivals, you name it!
How can folks participate in LES History Month?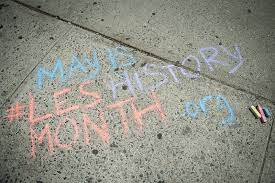 DAKOTA: The easiest way to participate is to attend an event! All are listed on The People's LES website and in our eblasts. We also have a big afternoon of chalking the streets with LES history and trivia each year open to all to join—this year, we chalked during the Avenue B Open Street on Saturday May 8th! This annual event is a great way to get to know more about LES history from our trivia packets, get your creative side and inner kid engaged, add your own LES stories and knowledge to the mix, and meet other community members celebrating the neighborhood.
What other exciting projects does FAB have coming up as we start to try and emerge from the pandemic?
DAKOTA: We've recently launched a series of public interviews with national leaders in the reparations movement called Beyond Symbol: Culture and Reparations. The series is in collaboration with The Laundromat Project, ARTs East NY, JACK, and MoCADA and focuses on engaging our community in conversation and learning around reparatory justice, to better understand how reparations can be enacted at a local level in NYC, as well as the role of arts and culture can play within the movement.
Our two Spring commissioned artists are Ariana Allensworth, creating a new iteration of her work Staying Power, a collaborative, multidisciplinary art and research project that celebrates a people's history of NYC public housing, and Dennis Redmoon Darkeem, honoring Black and Indigenous histories of the LES and the Second African Burial Ground. A public launch and observance will take place on Juneteenth, alongside additional programming co-curated with M'Finda Kalunga Garden.
We're also currently spending every Saturday bringing programming and arts activities to the Avenue B Open Street in collaboration with East Village Community Coalition and Loisaida Open Street Community Coalition! It's got multigenerational 'art camp' vibes and we're loving having safe in-person connection with our neighbors. Drop by any time!
Explore more
Categories: Community Spotlight. Tags: FABnyc.