About Our Educational Programs
NYTW's education initiatives provide access to the vision and methods of the artist, and enable audiences of all ages to participate in a community of dynamic learning where the developmental process, the final production and the surrounding exchange of ideas have a profound impact on all involved.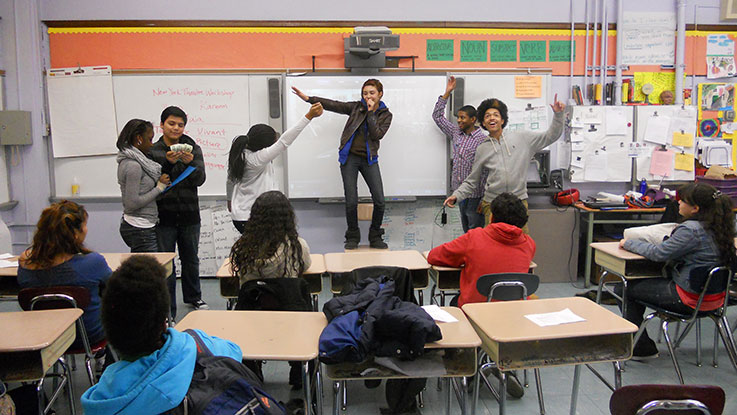 As we often collaborate with artists whose work takes risks and challenges theatrical forms, the artistic process at NYTW rarely follows a defined path. Our education initiatives embrace this iconoclastic approach, allowing us to craft each program and partnership with detail and creativity. NYTW addresses the needs of different segments of our community while facilitating the dialogue between them.
NYTW uses professional theatre resources to accomplish the following goals:
TRANSFORM classrooms by collaborating with teachers and using theatre to create learning of opportunities for students across the curriculum.
ENRICH students' multiple literacies by exposing them to the process of developing new work and teaching them multiple elements of dramatic craft.
ENGAGE students in theatrical experiences that address society's universal themes while developing their ability to think critically about the plays they attend.
FOSTER candid and meaningful dialogue among artists and audiences of diverse backgrounds and generations.
ENHANCE the work produced by NYTW through discussion events and resources, encouraging active audience participation and learning and expanding the cultural experience of theatre.
PROVIDE professional development and training opportunities for theatre artists, practitioners and educators at all stages of their careers.